Free Printable Farm Animal Pattern Block Mats
Swinging from the rope swing in the hay loft is one of my happiest childhood memories. My dad had a dairy farm and my grandpa had pigs and chickens. So many weekends growing up involved following behind the two of them as they did chores, took animals to market and worked in the fields. And of course, the Iowa State Fair! In case you didn't know it is one of the best State Fairs in the country. So much fun to go along with my family as they 'showed pigs' in the fair. While it is not at all close to going to the farm, a farm unit is a great way for preschoolers to learn about farm animals and life on the farm. These free printable farm animal pattern block mats are a fantastic way to bring fine motor skills into your farm theme activities for preschoolers.
Importance of Fine Motor Skills in Early Childhood
As children develop, some milestones are easy to spot. We are asked about them every time we take our child to see the doctor. They even have checklists for parents to fill out to determine if our child is keeping up with the 'norm.'
I didn't realize how important those checklists were until I had my fourth daughter and at her 3-year checkup, I noticed that she had only obtained a few of the skills that were on the 12-month checklist.
Those skills were obvious. They let us know that our child was developmentally delayed and we needed to seek help.
But that checklist opened my eyes to skills, like fine motor skills and visual discrimination skills that are not so obvious.
Fine motor skills are important to every child's development, because not only are they used for writing in school, but skills like using a button, snapping their jeans, opening a jar. Self-care skills that most people accomplish every day without even noticing.
It is important to start working on fine motor skills at a young age because if they do not develop properly, it can cause frustration and then lead to learning delays because kids avoid any task that requires them to use their hands.
How do I know my child needs help with fine motor skills?
One of a baby's first reflexes is the Palmar grasp. The simple explanation is that when something touches a baby's palm, they will automatically close it.
That is the most basic of fine motor skills.
But what about an older preschool-aged child?
Your child may need additional help and therapy for fine motor skills if he struggles to hold or open and close scissors. If she struggles to hold a thick crayon or has a hard time with large buttons.
None of these things mean that there is something "wrong" with a child. It just means that they need additional help developing their fine motor skills.
While getting assessed by an occupational therapist is a great idea, there are also things that we can do as parents and teachers.
Just because a child struggles with fine motor skills, doesn't mean that we should not work to develop them more.
Yes, there are some kids, like my youngest who's diagnosis means that they probably won't use their hands to the same level as their peers. But they should still be given every opportunity to grow.
No one expected my daughter to be able to use her hands. Rett Syndrome robs girls of that ability every day. But Shiloh, with our help and the help of her teachers and therapists, is in the beginning stages of writing, she loves to color, make crafts, and do projects like these farm animal pattern block mats.
Build fine motor skills with Pattern Blocks
When children use these free printable pattern block activities they are strengthening creativity, following directions, finding differences, and of course fine motor skills! These pattern block mats make it super easy for you to help your children strengthen all of these skills AND have fun at the same time!
Materials Needed
Paper | Laminating Pouch or Dry Erase Pocket |
Dry Eraser Marker | Pattern Blocks
We used these Learning Resources Pattern Blocks along with Crayola Dry Erase markers that create an additional tripod grasp challenge due to their thin size.
However, there are many pattern block options available and most of them are sized the same, so they should be interchangeable for this activity.
Learning Resources Plastic Pattern Blocks (Set of 250)
Crayola 98-5912 Washable Dry-Erase Fine Line Markers, 12 Classic Colors Non-Toxic Art Tools for Kids & Toddlers 3 & Up, Easy Clean Up, Won't Stain Hands or Clothes, Great for Classrooms
This is a very simple activity for kids to understand and each page is set up the same, so you don't have to waste time reviewing instructions for each page and you can focus more on the fine motor and visual discrimination skills.
With every activity, I like to incorporate vocabulary skills.
Because my daughter is highly distractible, engaging multiple skill sets at the same time makes it easier to keep her attention.
So we talk about attributes of the animals. I have her describe to me "why" one picture doesn't match. Is it bigger, smaller, backwards, a different color, missing a piece, etc.
We also work on counting by having her count the number of each pattern block piece used to create the picture.
For some children, they are ready to compare quantities of pieces or describing if one pattern block is larger than another.
Alternative Ideas:
To add another layer to the fine motor work, have your child lay on their stomach, propped up on their elbows. Have them alternate which hand they use to place the pattern blocks.
For easy differentiation, lay out just the pattern block pieces that are required for each picture to simplify the activity..
For more of a challenge, add the your whole set of pattern blocks to a bowl for your children to dig into.
Add even more challenge by adding the pattern blocks into a sensory bin and encouraging the kids to search for the the correct piece.
Create a fine motor farm animal theme with these pattern block mats, farm animal finger puppets and farm animal nesting dolls.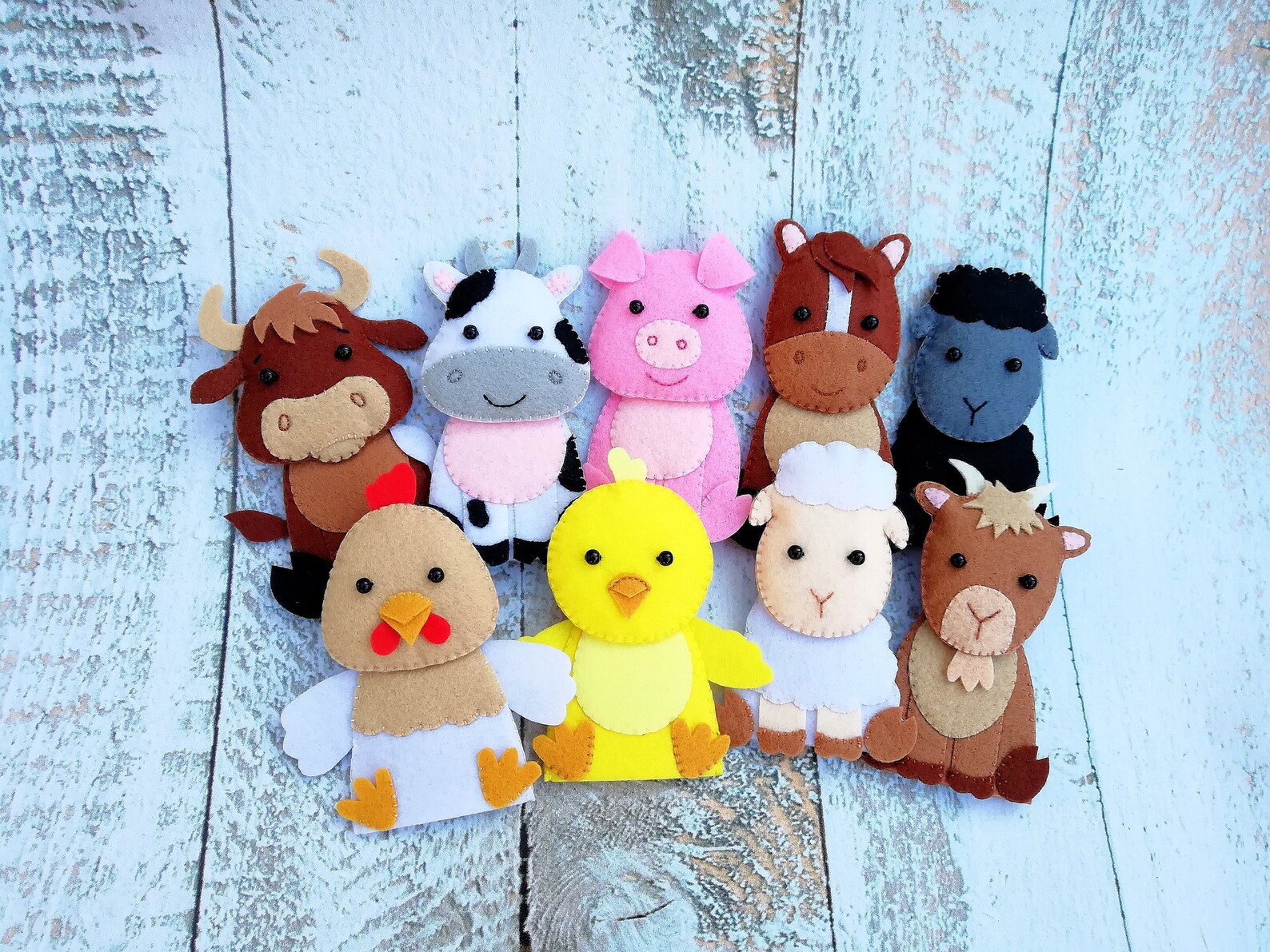 Farm Animal Finger Puppets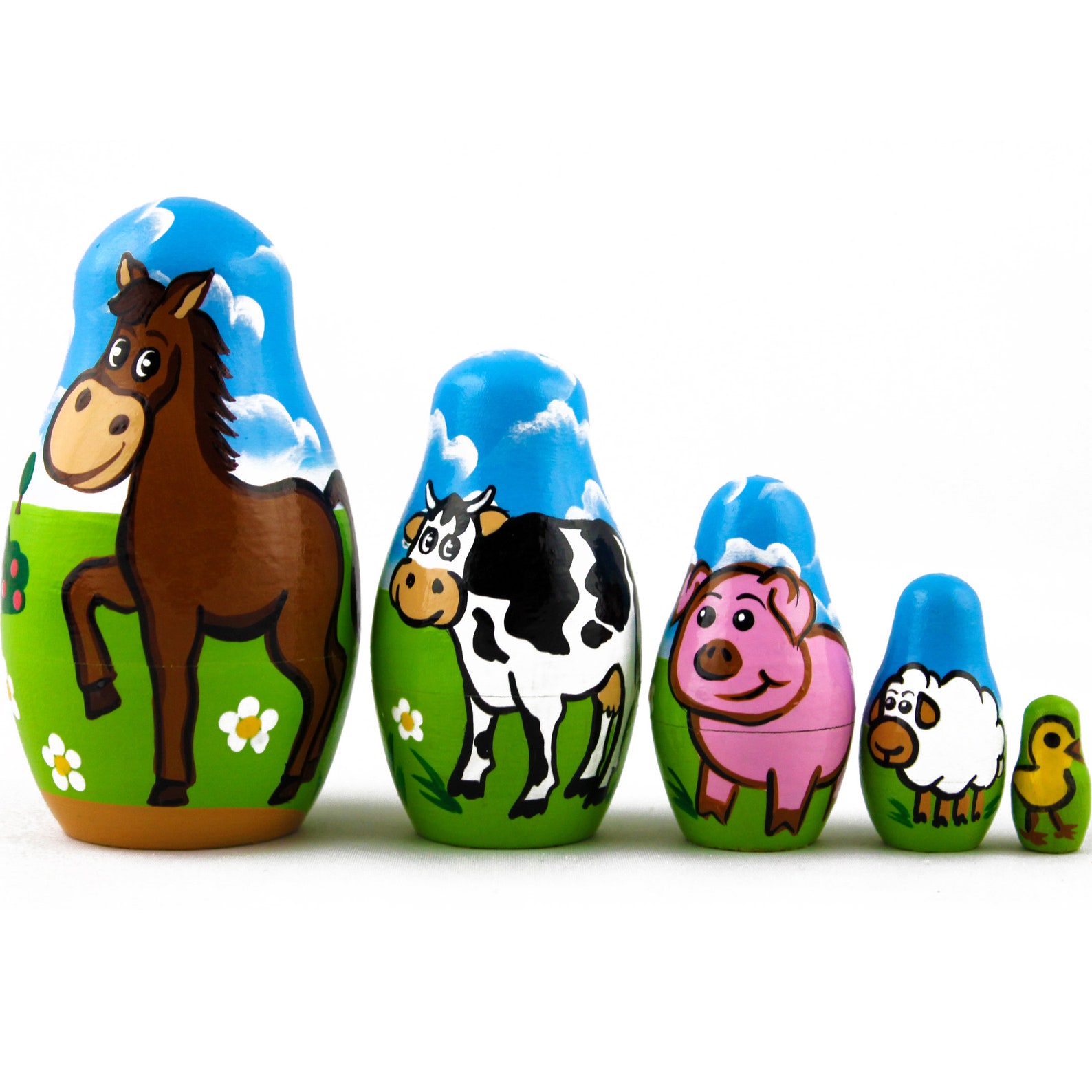 Farm Animal Nesting Dolls
Pair this fine motor activity with some of our favorite sensory and lift-the-flap farm books to extend the activity even further.
Have the kids spot the animals from the mats on the pages of the books for more visual discrimination work.
Let the kids practice turning the pages of the book and holding the book properly to continue to work on fine motor skills.
Incorporate counting skills by counting animals in the book.
Add another fine motor challenge when you use a lift-the-flap book!
Noisy Farm (My First Touch and Feel Sound Book)
Do Cows Meow? (A Lift-the-Flap Book)
Open the Barn Door (A Chunky Book(R))
Moo: Peek-a-Flap Children's Board Book
Lift-the-Flap Tab: Farm (Lift-the-Flap Tab Books)
Noisy Baby Animals (My First)
More Activities You'll Love!